Heat - Upal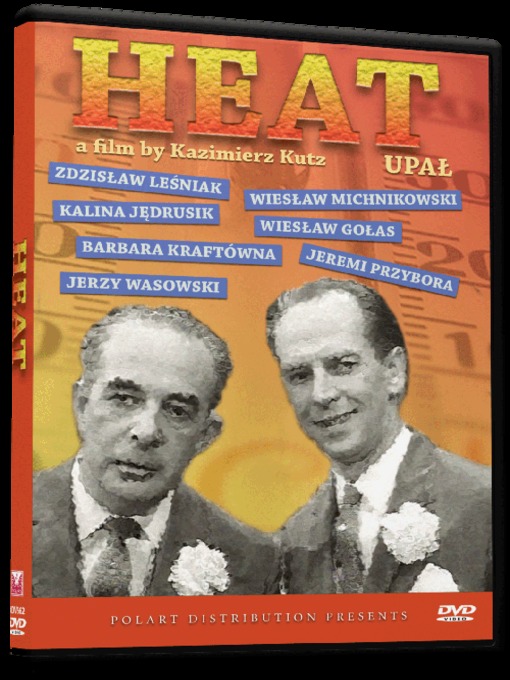 A contemporary comedy, starring two popular TV actors from the so-called "Two old gentlemen's show"., which Kutz made in 1964 as a sequel to the "Kabaret Starszych Panow" / "Old Gentleman's Cabaret," is practically a cult film today. At the time of its release, it met with strongly differing reactions. Some valued it for its surrealistic sense of humor, air of the grotesque and outright absurdity, while others criticized it for lacking cogency, calling it incoherent and an unfortunate coincidence in the director's career.
Z polecenia premiera, ktory udaje sie na odpoczynek, opieke nad opustoszalym z powodu upalu miastem przejmuja dwaj Starsi Panowie. W pilnowaniu ladu i porzadku pomaga im przybyla wlasnie do stolicy zenska Brygada Przeciwudarowa pod wodza Zuzanny. Nieoczekiwanie przyjezdza pociagiem ambasador egzotycznego panstwa, ktory, oburzony brakiem powitania, sklada ostra note dyplomatyczna w ministerstwie. Zaproszeni do jego siedziby goscie - Starsi Panowie, Basia z baru mlecznego, Albin, jej narzeczony Kornel z Domu Mody i Grzanka, Miss Upalu - probuja zazegnac konflikt. Po wielu perypetiach udobruchany ambasador wycofuje swoj protest. Po deszczu upal maleje. Premier wraca do miasta i swoich obowiazkow. Surrealistyczna komedia kontynuujaca formule popularnego programu telewizyjnego - "Kabaretu Starszych Panow".
Cast: Jeremi Przybora, Jerzy Wasowski, Barbara Krafftowna.
Directed by Kazimierz Kutz.
1964, Black & White, 81 mins.
Polish with English subtitles.
Director: Kazimierz Kutz

Actor: Jeremi Przybora, Wieslaw Michnikowski, Barbara Krafftowna